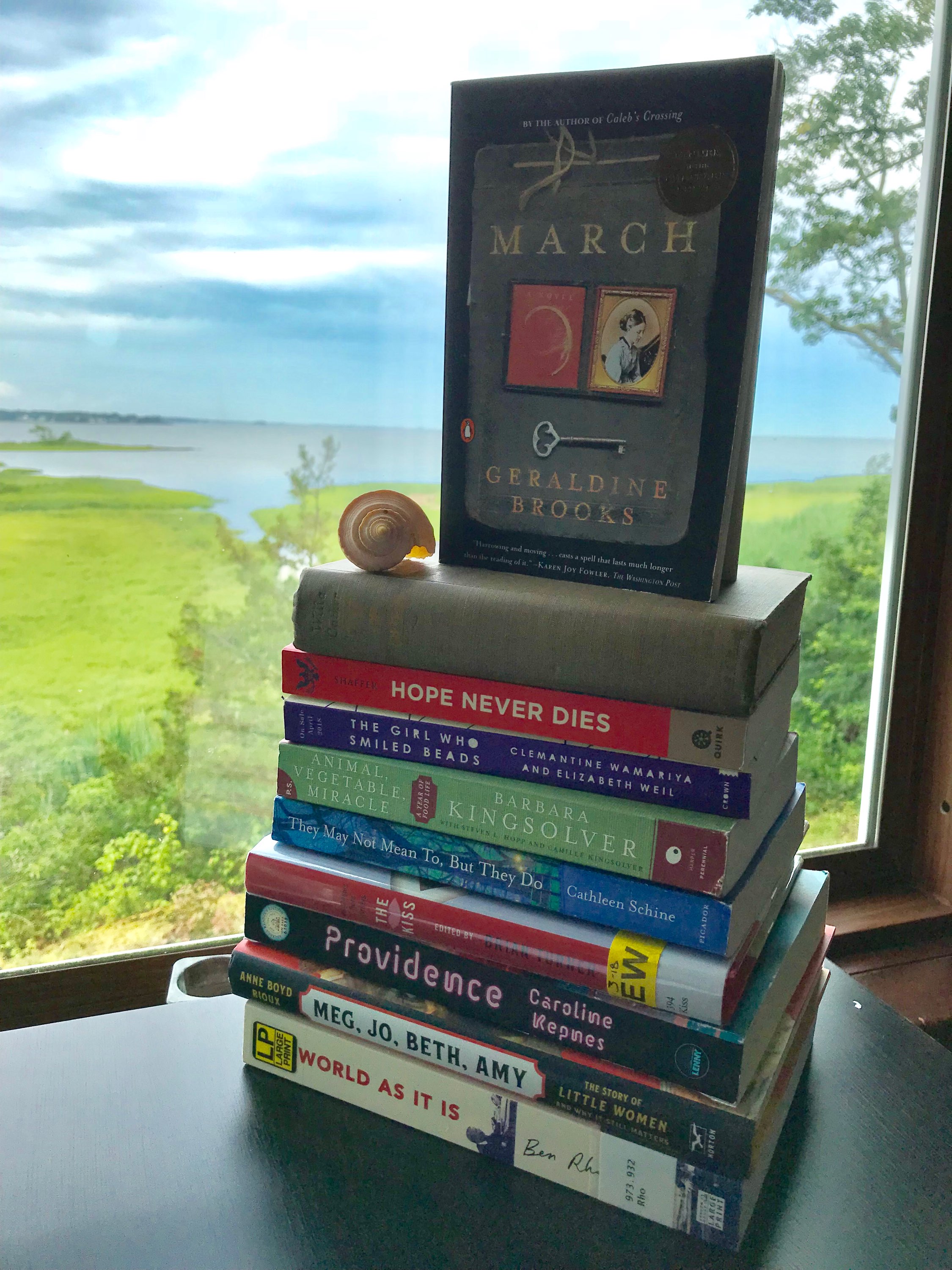 – Biblio Adventures –
Emily saw Matthew Dicks at RJ Julia Booksellers in Madison with his new book Storyworthy: Engage, Teach, Persuade, and Change Your Life through the Power of Storytelling
Chris visited the Beinecke Rare Book & Manuscript Library in New Haven, CT and saw a copy of the Declaration of Independence on display.

– Upcoming Jaunts –
Chris and Emily will be heading to Orchard House – the home of Louisa May Alcott – on July 16th
July 19th Chris will be hosting the Willa Cather Book Club at Bookclub Bookstore & More
Emily is planning to attend Savoy Bookshop & Café Harry Potter 20th Anniversary party on July 31st
The Book Cougars will be hosting an historical fiction author event in partnership with Bank Square Books at Mohegan Sun on September 27, 2018.
– Upcoming Reads –
March – Geraldine Brooks (CW)(EF)
Meg, Jo, Beth, Amy: The Story of Little Women – Anne Boyd Rioux (CW)(EF) release date August 21st
The World As It Is: Inside the Obama White House – Ben Rhodes (CW)
The Kiss: Intimacies from Writers – edited by Brian Turner (CW)
Animal, Vegetable, Miracle: A Year of Food Life – Barbara Kingsolver (EF) (audio)
– Also Mentioned –
The new library Libby App to download E-books and Audiobooks
Center for Fiction first novel prize list can be found here.
A Place for Us – Fatima Farheen Mirza
There There – Tommy Orange
Sadness is a White Bird – Moriel Rothman - Zecker
Man Booker Golden 50th Book Award
Poisonwood Bible – Barbara Kingsolver
Willa Cather Novels: My Ántonia, The Song of the Lark, and O Pioneers!
Orchard House Conversation Series
Gwendolyn Brooks Statue in Chicago
57th Street Books
American Writers Museum
Poet Philip Larkin
This Be The Verse
They fuck you up, your mum and dad.
They may not mean to, but they do.
They fill you with the faults they had
And add some extra, just for you.

But they were fucked up in their turn
By fools in old-style hats and coats,
Who half the time were soppy-stern
And half at one another's throats.
Man hands on misery to man.
It deepens like a coastal shelf.
Get out as early as you can,
And don't have any kids yourself.