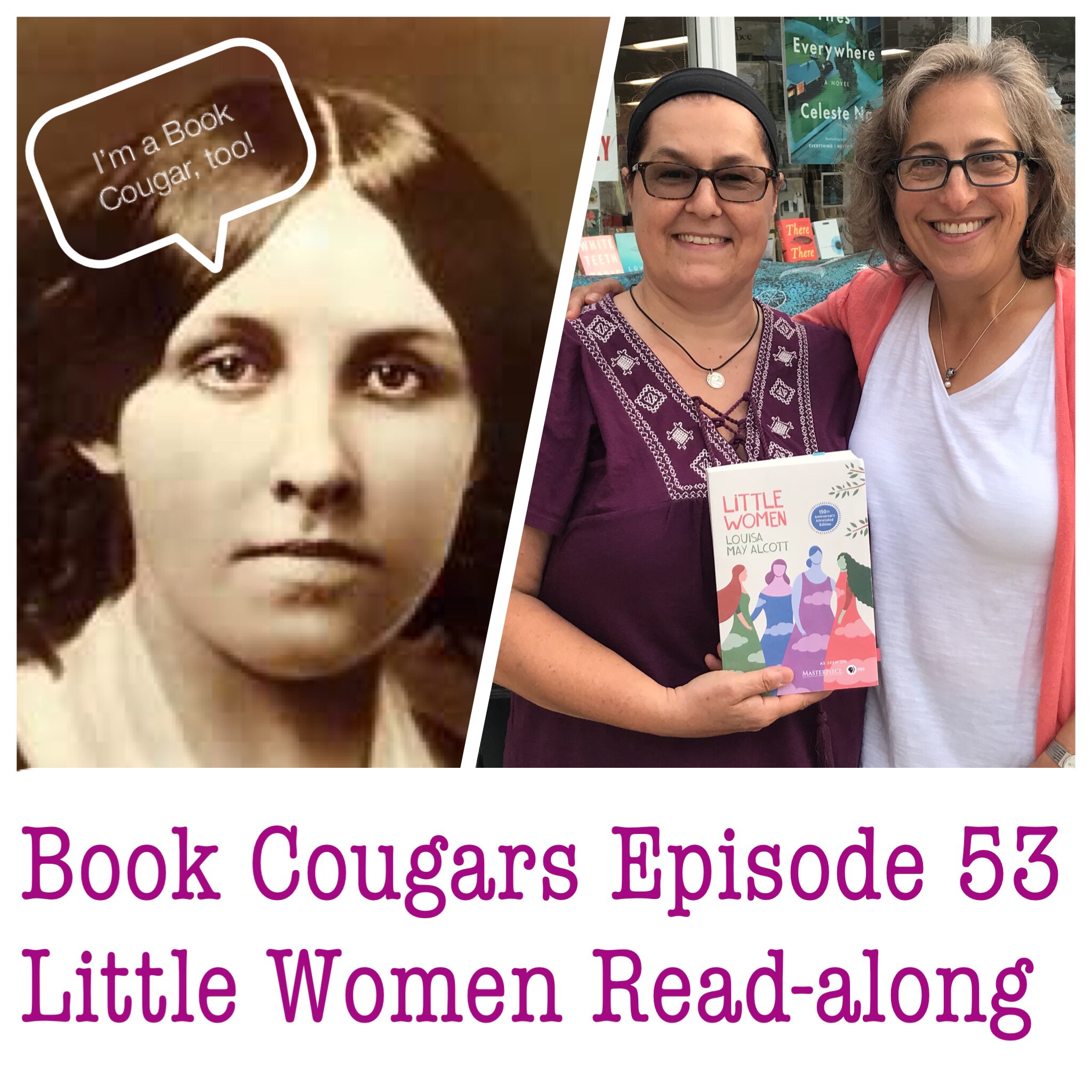 Episode Fifty Three Show Notes
CW = Chris Wolak
EF = Emily Fine

Join our Goodreads Group!
Let us know what you want us to choose as the next read along. You can email, tweet or join the discussion on the Goodreads page.
Upcoming Readalongs
March – Geraldine Brooks – have comments to us by July 19th
Upcoming Book Release and Event
Meg, Jo, Beth, Amy: The Story of Little Women – Anne Boyd Rioux (release date August 21st)
Check out upcoming events for the 150th anniversary of Little Women at Orchard House.
Purchase Book Cougars Swag on Zazzle!
– Currently Reading/Listening –
Why Buddhism Is True: The Science and Philosophy of Enlightenment – Robert Wright (CW)
Providence – Caroline Kepnes (EF)
The American Byron: Homosexuality The Fall of Fitz-Green Halleck – John Hallock (CW)
– Just Read –
Unsheltered – Barbara Kingsolver (EF) release date October 16, 2018
Chris DNF'd Fatal Crossing (Nora Sand #1) – Lone Theils, Translated by Charlotte Barslund (CW)
and she attempted to watch an adaptation of Picnic at Hanging Rock
It Happened at Two in the Morning – Alan Hruska (EF)
Code Girls: The Untold Story of the American Women Code Breakers Who Helped Win World War II – Liza Mundy (CW)(audio)
A Place for Us – Fatima Farheen Mirza (EF)

– Biblio Adventures –
Chris met John Valeri, Our Mystery Man, at Wesleyan RJ Julia Bookstore

Chris attended Crime Conn at Ferguson Library on Saturday, June 23, 2018
Author panelists included:
China Trade – S.J. Rozan
Katie Torpey
Tom Straw
David Rich
David Handler
James Benn
Jane Cleland
Sacred Cows – Karen E. Olson
Charles Salzberg
Dr. Kristen Hartnett-McCann
Bill Curatolo
Jill Fletcher
Jeff Markowitz
Chris Knopf
Neil Nyren
Gina Panettieri
Sheryl Kayne
June 19, 2018 Emily saw Jennifer Egan, author of Manhattan Beach, sponsored by Bank Square Books at Wheeler Library in North Stonington, CT.
June 20, 2018 Emily and Chris went to see Claire Messud, author of The Burning Girl, sponsored by Bank Square Books. Sadly, the event was postponed.
NYPL event archive of Roxane Gay in conversation with Aja Monet: https://www.nypl.org/audiovideo/live-nypl-roxane-gay-aja-monet-not-bad
– Upcoming Jaunts –
Matthew Dicks will be at RJ Julia Booksellers in Madison with his new book Storyworthy: Engage, Teach, Persuade, and Change Your Life through the Power of Storytelling.
Chris and Emily will be heading to Orchard House – the home of Louisa May Alcott.
– Upcoming Reads –
March – Geraldine Brooks (EF)
They May Not Mean To, But They Do – Cathleen Schine (EF)
Sudden Sea: The Great Hurricane of 1938 – R.A. Scotti (CW)
Small Animals: Parenthood in the Age of Fear – Kim Brooks (EF) release date August 21, 2018
– 5th Read Along –
Little Women – Louisa May Alcott (EF) (CW)
The Goodreads discussion can be found here.
– Also Mentioned –
Animal, Vegetable, Miracle: A Year of Food Life – Barbara Kingsolver
Also by Robert Wright:
The Evolution of God
Nonzero: The Logic of Human Destiny
The Moral Animal: Why We Are The Way We Are: The New Science of Evolutionary Psychology
The Overstory – Richard Powers
Also by Barbara Kingsolver:
Bean Trees
Prodigal Summer
The Poisonwood Bible
The President Is Missing – Bill Clinton, James Patterson
The Pilgrims Progress – John Bunyan
Northanger Abbey – Jane Austen
Henry David Thoreau
Margaret Fuller
Hospital Sketches – Louisa May Alcott